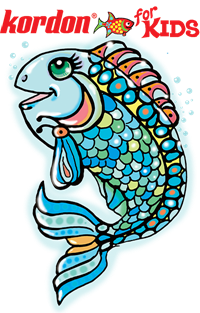 Kordon for Kids™ Instant Water Conditioners
FIZZ TABLET INSTANT WATER CONDITIONERS FOR FISH

Nothing to spill - safe and easy dry tablets
Controls ammonia and chlorine
Easy for kids to use - nothing to measure
Easy to identify color-coded packages
Makes tap water safe for children's fish, frogs, etc... just drop in a single tablet! INSTANT Water Conditioner FIZZ Tablets for FISH
IT'S AS EASY AS 1-2-3!
1) Find out how much water to treat: Fill bowl or aquarium using measuring cups or clean soda bottle - something that
already has measurements and amounts marked on it. This works great for smaller off-size fish bowls. 128 ounces = 1 gallon.
2) Drop in the tablet: Add 1 Tablet - the package will tell how many gallons of water will be treated.
3) Watch the tablet dissolve: Starts fizzing immediately - making the fish's water safe as soon as tablet is added to
the aquarium or terrarium habitat. For water changes, new water can be prepared ahead of time by adding in 1 tablet.
Makes tap water safe for children's fish, frogs, etc... just drop in a single tablet!
Item No. 30401 - 1 GALLON SIZE: Ideal for smaller fish bowls, nano desk-top aquariums, and for water changes.
This is a handy size for "topping-off" water.

Item No. 30405 - 5 GALLON SIZE: Just right for popular 5-gallon starter aquariums.
Can be used for water changes in 10 & 20 gallon aquariums or habitats.

Item No. 30410 - 10 GALLON SIZE: This is right size for the 10 gallon tanks often found in starter kits.
It can also treat water changes for a 20-gallon tank