Oasis
Premium Quality Pet Products since 1964.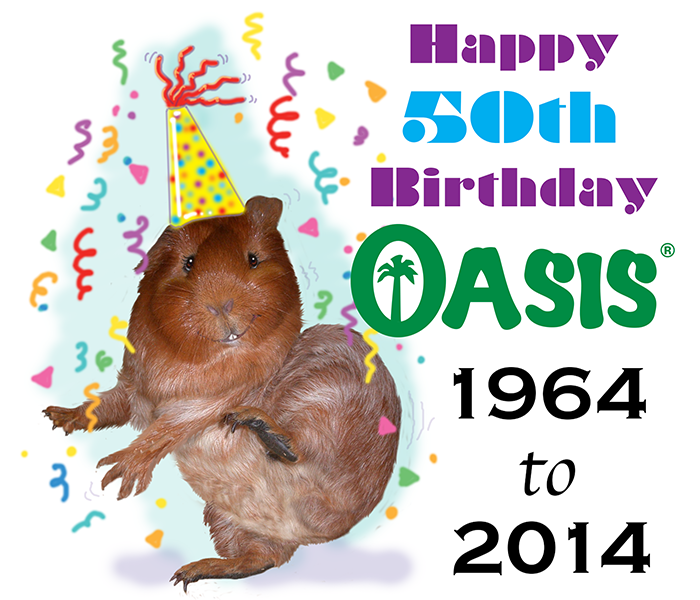 OASIS® PET PRODUCTS IS CELEBRATING OUR 50TH ANNIVERSARY!
Over the years OASIS has provided only the finest quality products for the small animal and cage bird categories. Our entry into the pet industry 1964 included providing the best water bottles available, innovative design, and the goal of improving the quality of life for small aninmals and birds. Today's focus is on our very well known VITA-DROPS™ nutritional supplements and our new line natural products based on the finest grade probiotics. From 1964 to 2014 - OASIS has always delivered the best.
________________________________________________________________________________________________
Welcome to our OASIS Home Page. In this section of our web site you will find information for all of our Oasis Pet Products.
In the past, the OASIS line of products centered around products needed for the keepers of small animal pets. There were specialty items designed for rabbits, hamsters and guinea pigs. Water Bottles were our specialty and we led the market with innovative ways of providing water to our customer's pets. We also provided a few products for dogs. Our "Dog Canteen" was one of the first portable water bowls designed for our K9 companions. Our "Dog Catcher" didn't really catch dogs, it was a flying disk product with the center cut out that dogs could fetch and return to their owners. There were a couple of feline products too, most notably "Litter Renew."
OASIS Vita Drops provide added nutrition that has been specifically formulated to meet the needs of various species. Vita Drops were specially designed to be added to an animal's water bottle to provide the freshest vitamins possible on a daily basis.

Presently, OASIS is expanding its product line with a fresh focus on the products featured under the OASIS NATURALS logo. New all-natural powdered multivitamins, new probiotic supplements, herbal skin healing creams and sprays have been added to our product line in versions suitable for small animals, dogs and cats, birds,horses and a special vitamin formula just for guinea pigs. Oasis plans to improve the health of your pet like never before... with natural products!

We have also added our new K9 Carriers - high quality carriers for your smaller dogs and other pets. These sturdy, well-constructed carriers are designed with travel in mind. Approved by many airlines as carry on luggage, you now have the chance to take your pet with you the next time you fly.

Be sure to check this section of our web site often because we are going to be introducing some interesting new products that are currently in development in the near future.

When you want the best for your pet, Oasis products live up to your strictest standards.