OASIS SMALL ANIMAL PET CARRIER
TRADITIONAL AND ECONOMICAL CORRUGATED CARRIER FOR PETS UP TO 20 POUNDS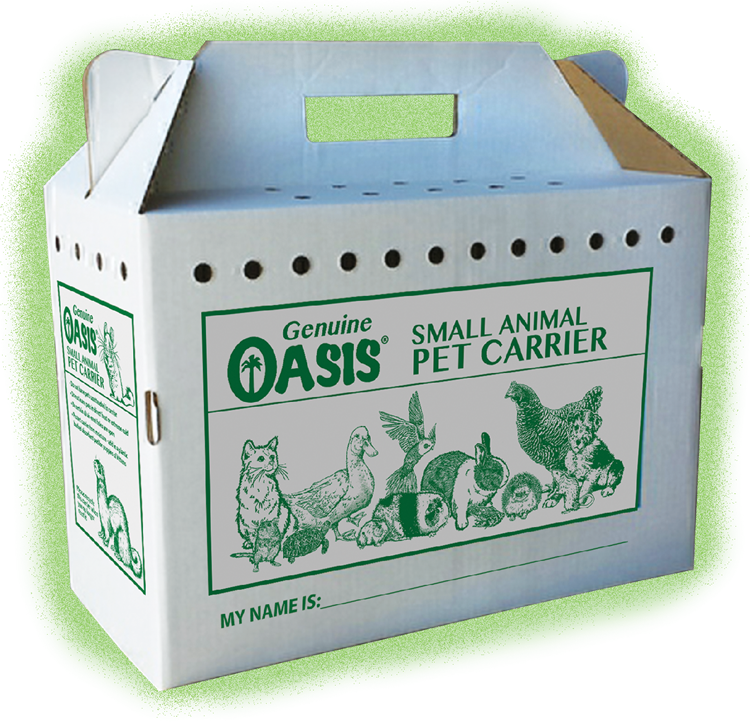 Here is a new version of the ever-popular corrugated pet carrier. The Genuine Oasis® SMALL ANIMAL PET CARRIER features all new multi-species line art and is perfect for use for the usual puppies, kittens, small dogs, and cats. Other suitable uses are for rabbits, ferrets, guinea pigs, reptiles including tortoises, chinchillas, poultry and exotic pet owners.

The Oasis Small Animal Carrier features a very secure seamless bottom design that easily holds pets weighing up to 20 pounds.

Handy space for pet's name helps to identify rescued animals in emergency situations. This small animal carrier is sturdy, reliable, economical and very suitable for use on "adoption days" or rescue efforts.
Corrugated "cardboard" material is designated as a "brown" recyclable product (not a growing plant or food item) desirable for composting… and a printed statement on the product side encourages recycling.
Vent holes sized to allow plenty of air flow while keeping paws inside.

Inside dimensions: 17.5" long, 12.25" high, 9" wide - overall 17.5" high with handle.
Item No.: 80006 - Oasis® Small Animal Pet Carrier - available in bundles of 25 pieces.