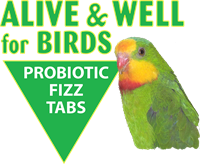 Alive and Well™ for Birds
SAFE AND EASY TO USE BENEFICIAL PROBIOTIC FIZZ-TABSS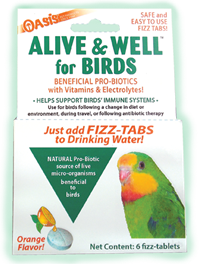 HELPS SUPPORT CAGE BIRDS' IMMUNE SYSTEMS
Increases overall immune system strength
Assures optimum digestive tract microflora
Potentially increases the bird's natural lifespan
Counteracts effects of stress (such as diarrhea)
Excellent pretreatment prior to shows of travel
Pretreatment prior to change of diet
Suitable for caged birds and aviary use.
Dissolves in drinking water - orange flavored
Made in USA
NATURAL PROBIOTIC FORMULA with VITAMINS and ELECTROLYTES.
ALIVE & WELL for BIRDS includes the highest quality grade of natural ingredients possible. Thiseasy-to-use fizz tab introduces probiotics, vitamins and electrolytes into the digestive system. Use for birds exposed to stress due to illness, injury, breeding, weaning, travel or change of diet (food and water).
ALIVE & WELL for BIRDS is very helpful during a move into a new home or a change in living schedule - including a move into a new cage. This product helps to restore normal levels of microflora (beneficial bacteria) in the intestinal tract. ALIVE & WELL for BIRDS includes the beneficial probiotic bacteria and micro-flora population needed as a follow-up to any use of antibiotics in birds, and is strongly recommended for use following antibiotic treatment or any cause of diarrhea.
Item NO. 80070 ALIVE & WELL - 6 fizz tablet package