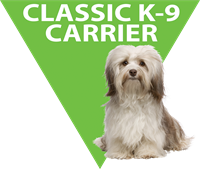 Classic K9 Carrier™
Softside Pet Carrier with open mesh end panels

VERY POPULAR DESIGN
MESH VENTING AT BOTH ZIPPER-OPEN ENDS
MESH ZIPPER-OPEN TOP
PANEL FOR EASY ACCESS
SUITABLE FOR:
• Dogs
ª Puppies
• Cats
• Kittens
• Rabbits
• Ferrets
• Exotic Pets
... and similar-sized pets
AIRLINE CABIN CARRY-ON FRIENDLY Regulations may vary according to individual airline company policies.
Product features include: durable zip-open mesh panels on top and both door-ends offer maximum ventilation, roomy side accessory pocket, and access to pet during travel. This carrier includes a removable easy-to wash bottom fleece pad, interior clip-on harness strap and features easy to wipe clean inner surfaces, pet I.D. tag, padded handles & shoulder strap.
Designated for pets weighing up to 20 pounds
Dimensions
10" wide, 12" high, 15" long
Directions for Use
Secure pet with internal clip-on harness strap. Do not secure pets using choke style collars.
Styles
MODERN PURPLE
Item # 84009
UPC 0-48054-84009-8

PINK CAMOUFLAGE
Item # 84007
UPC 0-48054-84007-4

LOGAN GREEN
Item # 84008
UPC 0-48054-84008-1

CAMOUFLAGE
Item # 84006
UPC 0-48054-84006-7

BLACK
Item # 84004
UPC 0-48054-84004-3

CHOCOLATE
Item # 84005
UPC 0-48054-84005-0