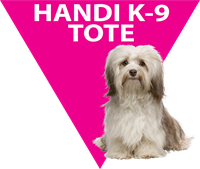 Handi K-9 Tote™
Heavy duty zipper top tote for pets and other tasks

• Features heavy duty metal grommet side vents
• Vented top panel zips open easily
• Comfortable padded shoulder straps
• Easy in - easy out top access for versatility

This is more than a pet tote - use it
to carry other items such as:
• Groceries or other shopping items
• Library books or study materials
• Gym or work out gear
• Hiking or picnic supplies
• supplies for beach trips
• Grooming supplies of show animals
Traveling? This tote will handle your pet or anything else!

Easily carries pets weighing up to 20 pounds

Product features include: Durable mesh plus a mesh top panel secures with twin-pull zippers, removable easy-to wash bottom pad, easy to wipe clean inner surfaces, pet I.D. tag and padded easy-carry handles. roomy side pocket for accessories such as leashes or treats. This is a well made, tough go-anywhere and do-anything tote.
9" wide x 12" high x 17" long
Item No. 84010 Handi K-9 Tote grey and black
Item No. 84011 Handi K-9 Tote grey and orange
Item No. 84012 Handi K-9 Tote grey and pink