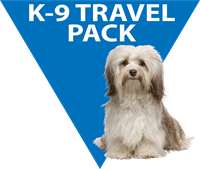 K9 Travel Pack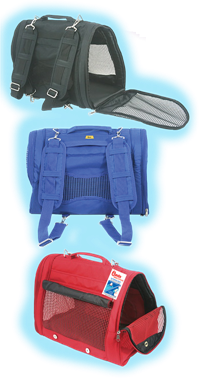 AIRLINE CABIN
CARRY-ON FRIENDLY
Regulations may vary according to
individual airline company policies.


• Features top and side vent panels
• Includes solid end and top for weather protection
• Comfortable padded shoulder straps
• Easy carry handle for versatility

This is more than a pet tote - use it while
hiking to carry other items such as:
• portable food & first aid supplies
• extra shoes or socks
• food & water supply for larger on-leash dogs

10" wide x 12" high x 15" long
Easily carries pets weighing up to 20 pounds

Product features include: Access doors on each end with durable mesh plus a mesh side window with roll-up solid weather guard flap that secures with magnets to offer plenty of ventilation, removable easy-to wash bottom pad, easy to wipe clean inner surfaces, pet I.D. tag and padded easy-carry handles.
Item No. 84001 - K-9 Travel Tote - black
Item No. 84002 - K-9 Travel Tote - blue
Item No. 84003 - K-9 Travel Tote - red
Dimensions
10" wide, 12" high, 15" long
1.5" wide shoulder straps with 3/5" wide pads
Directions for Use
Can be used with half-door in "open end" position or with both zip-close doors closed. Secure pet with internal clip-on harness strap.

Styles
RED
Item # 84003
UPC 0-48054-84003-6

BLACK
Item # 84001
UPC 0-48054-84001-2

BLUE
Item # 84002
UPC 0-48054-84002-9